What is missing in my Marketing Stack?
The reality is that no one platform will serve all your marketing needs. It is more normal now to have a marketing "stack" where you select the best in breed for your needs, budget and for each task. Given this it can be difficult to assess if you need a new component or application for your stack, where it fits and what incremental benefit it can bring to you. To help you in this task I have created the following "stack" diagram. Whilst creating this diagrams I found that it would be impossible to create a clear picture that showed everything that you could have in your stack, according to chiefmartech.com there are now over 5000 vendors in 43 categories(!), so I have only shown the most popular tools.
Marketing Stack – Audience Journey View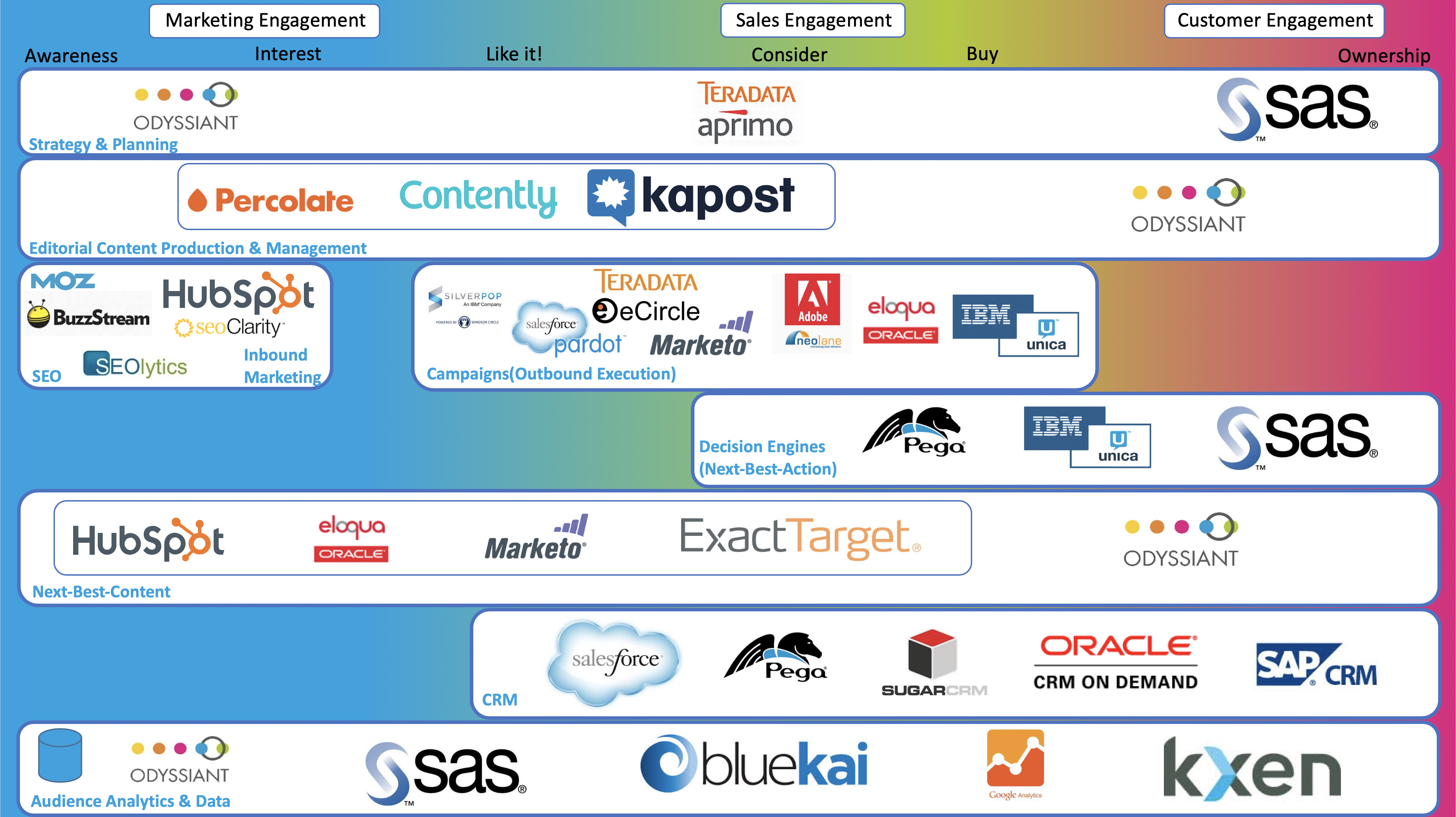 In this diagram the audiences journey moves from left to right, from awareness through to being a customer and owning a product or using a service. I have then created clear functional areas that are required for using content for marketing engagement, sales engagement and customer engagement. For each area I have indicated what part of the journey is covered by the boundaries of the box for that the vendors are within.

Strategy & Planning
Strategy and planning tools are not thick on the ground so there is not much to select from in this category. The tools cover the building of a strategy/plan from very different points of view. The traditional MRM (Marketing Resource Management) solutions such as Teradata's Aprimo and SAS are seeking to optimise the results from all the campaigning/messaging efforts by filtering who gets what message. They start with the premise of the all the various messages and then use algorithms to determine which individual should receive which message in order to get the best bang for buck on marketing budgets. In the past this planning has been very useful and successful, unfortunately it is not ultimately a strategy in that it does not help you determine what those messages should be and how your content will move your audience towards your commercial goals. Odyssiant builds an audience strategy by planning their journeys towards commercial goals. From these journey maps the user can then create briefs for the content.
Editorial Content Production & Management
Tools in this area are focused around an editorial calendar function that then usually leads to workflow functionality for the management of the content production process. As you will see in the diagram above, most of the tools in this space work for content in the early part of the audience's journey – marketing content. Content for the sales process and for when they are a customer is not usually considered. For most of these tools the functionality of the editorial calendar is sparse simply allowing the user to generate and share "ideas" about what content to create. This is because none of these tools allow the user to create a content strategy that can guide the marketer in what content is actually needed to move the audience forward. They have no structure or method for the content strategy.
Odyssiant allows the user to manage the briefs created by the strategy in an editorial production planner that covers both a calendar view of the content status and workflow for authorisation and management of the process.
SEO/Inbound Marketing
SEO has become inexorably linked with content marketing as Google have been changing their search algorithms towards the quality of the content in pages and not just the keywords. Tools in this space are mostly focused on the tactics of how to improve your search rankings and generating inbound traffic to your website. Whilst this is a vital part of the marketing stack your content strategy must then lead your audience somewhere after you have got them engaged.
Campaigns (Outbound Marketing)
Tools in this area are focused on the automation of what would otherwise be very arduous tasks -namely getting the message to your customer. Whilst the processes of execution, delivery and measurement of the messages has become more and more effective and efficient with these tools they do not help with the content of the messages. They might as well be sending empty boxes to the recipients for all they understand of the content meaning and purpose. Many of them would argue that they use very sophisticated predictive mining in order to target the right person with the right message and whilst this is clever maths, that is all it is. You can predict what race horse is going to win with the same mathematical algorithms as you would to select someone for a sales message. The maths only views this as data and it does not understand what the prediction is.
Decision Engines (AI or Next-Best-Action)
Decision engines use the same type of maths and predictive algorithms that are used by the campaign tools but they tend to be "waiting" for the customer to turn up meaning they are deployed on channels where the customer is visiting you. This would be within your website or your contact centre for example. As such they are waiting for the customer not engaging with the customer. The activity of decision engines is therefore restricted to the sales and customer retention parts of the journey.
Next-Best-Content
Tools is the next-best-content space look for content to serve up next to your customer. Most of the tools in this space are designed for marketing and sales content and do not look at the entire customer journey. Odyssiant is the only tool in this group the makes the selection of the content to be delivered to the audience based on a pre-designed journey map. Each individual may be "travelling" on multiple maps and Odyssiant understands this and what the next part of the story is for this person.
CRM
As with the campaign automation and decision engine tools, CRM automates arduous tasks and collects lots of data to aid you in managing your relationship with your customers as the name suggests. As with campaign automation and decision engines though, it is also "dumb" when it comes to content.
Audience Analytics & Data
Data gets collected from all of the above and can then be analysed and scrutinised by the tools in this box. Odyssiant can compare the audiences' progress against its predefined maps that will give you a view of your sales and marketing funnel. This provides you with sales attribution for every item of content as well as visibility on what is working and what is not.